There are numerous signs from the universe to help you validate you have encountered your twin flame. Too often people mistake a soul mate relationship for a twin flame relationship. This is totally understandable because they are similar karmic, cosmic, fated relationships. Certain signs from the universe are consistent with twin flames. This can help people differentiate between the two and to help you know if you have met your twin flame.
Twin Flame Relationships and Signs from the Universe
One of the top signs that should be present in a twin flame union is that prior to starting a this relationship you were not endlessly seeking them. Your life was full. There was no need to have someone make you happy because you made yourself happy. You accepted the universe's role in your life and did not try and control every aspect of your life. Being open to welcoming a higher level relationship was present,  but you did not take the matter into your own hands. You let yourself be guided by the universe, not by desperation.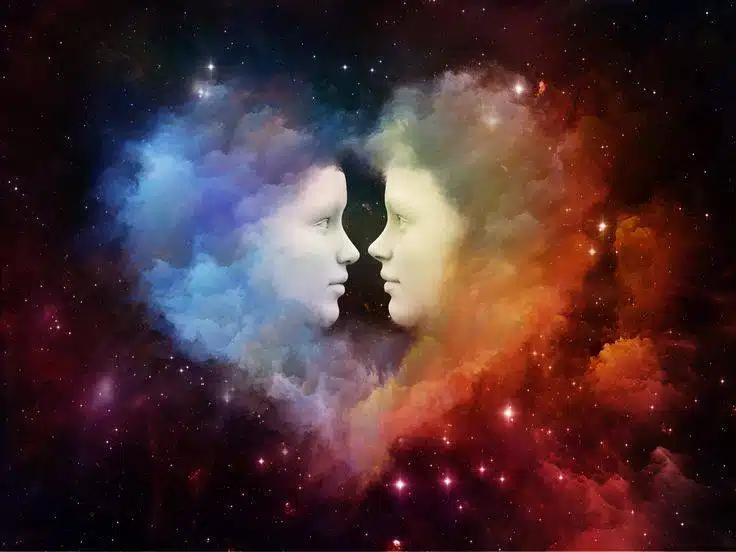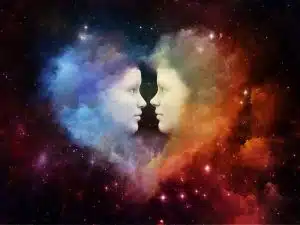 There is always an undeniable level of synchronicity that creates the meeting of twin flames. The extraordinary circumstances and events that created that meeting  show the power of the universe at work. If you and your twin tried to make that meeting happen, you couldn't have. It took the powers at be to bring the two of you together. Because the universe knew the time was right for you and your twin to meet, they created the meeting for you.
A true sign of twin flame relationships vs. soul mate relationships is that twin flames do not go through what we call soulmate separation anxiety. Twin flames can disagree with each other without worrying that the relationship will end. That kind of drama is for soul mates, not twin flames. Twin flames understand their relationship is too evolved to let petty drama and misunderstandings destroy it. They do not sacrifice their dignity in their relationships due to fear. Fear is a factor in soul mate relationships, where it is not in twin flame relationships. Twin flames are not needy, clingy, fearful or afraid to speak their minds. Twin flames know how to set boundaries and enforce them. Soulmates often do not because of their fear of losing their soulmate. Then they wonder why their relationship is a dysfunctional mess.

When you are in a twin flame relationship you take the next steps towards creating a better path for yourself. You may have gotten pretty far in your career but upon encountering your twin flame you make changed. You could decide it is time to switch jobs or take on a new career you always wanted. Before meeting your twin flame the time never seemed right to do so. Your twin flame relationship awakens you to pursue the goals and dreams that you have put on the back burner. Your twin inspires you to be the best you can be.

A distinctive sign from the universe is that a twin flame relationship is the most intense romantic connection on earth. You will not have this deep a level of communication with anyone else.  Being able to express yourself to someone you know is truly accepting and open to your thoughts and ideas is a benchmark of twin flame relationships. Your twin will also feel that same safety in expressing themselves. You will both reveal feelings and memories, along with thoughts and ideas that you have never shared with anyone else this way. Neither of you is afraid to show your vulnerability to one another.

 One of the signs when you are in a twin flame relationship is the empathy twins have with each other.  Twin flames can sense on a spiritual level if their twin is having anxiety, feeling fearful, sad, or even if they are sick. Twin flames can also communicate on a telepathic level, and read each others thoughts with simply a glance. There is often a lot of communication that goes unspoken between twin flames. Some soul  mates can do this, but not as often as twin flames.
A sign from the universe that is present when you are in a twin flame relationship is a major age gap between the two of you.  This happens because one twin had to come to earth first and experience some growth. This is usually by experiencing romantic relationships that failed. When it is time to encounter your twin flame one of you will have more life experience than the other. You will be the one to hold the light energy for the twin flame energy to manifest into a relationship.

Soul mates and twin flames often feel a sense of recognition on a soul level when they meet. Twin flame encounters may take longer to accept and validate the connection. They take more time to really examine what is going on. Since they have already been on their spiritual journey they tend to look at how this connection fits into their path. They look at the big picture, not just from a romantic standpoint.

In many cases the universe will create a meeting between twin flames when their lives are separated geographically. This forces them to be apart for a while. During that time they begin to create changes in their lives that will then bring them together at a later date. Soul mates, during times of separation often allow fear and insecurity to cause problems during this time apart. Twin flames don't. Twins understand this meeting is to examine their life. They are aware they have to work on themselves as individuals to then facilitate a relationship with their twin  flame. You can't just put a house up for sale one day and move across country or to another country. Twin flames make a reasonable, sensible, mature plan, because they can do so without fear of losing their twin flame connection.
A soul mate relationship, as opposed to a twin flame relationship, is really just about the two of them. A sign you are in a twin flame relationship is when the two of you are working as a team to create a positive impact on the world. You may work together to create a charity or program to help those in need. It could be that you fight for the rights of animals. You support a program to help those that cannot help themselves. Giving your time and yourselves to make the world a better place, is something you both want to do. This is really one of the most significant twin flame signs. Without this sign, you are not in a twin flame relationship, but a soul mate relationship. And it is not that one relationship is better or worse than the other, they are just different in some ways.
We created this list of twin flame relationship signs hoping it can help all of you wondering if you have met your twin flame. Not everyone will meet their twin flame in this lifetime, and that is ok. You can still have a relationship with a soul mate, which can be just as satisfying. And, if the two of you get that right, your next lifetime may be when you are ready for a twin flame relationship.